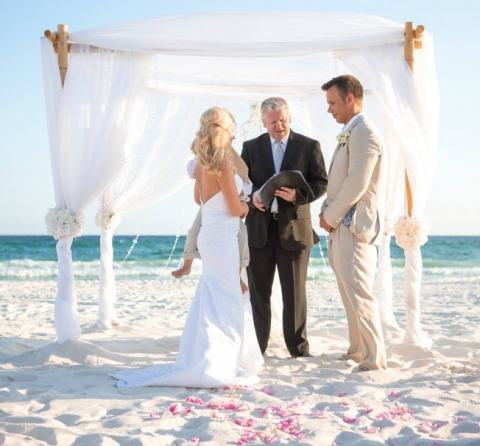 Deciding on wedding stationary can be very confusing. But just like every other aspect of wedding planning, you have to decide what exactly it is that you want for your stationary. So read on to see what every single little card is for, and which ones you could probably go without.
Save the dates
These are generally sent out six to nine months before your wedding date. These wedding announcements are especially handy for brides planning a wedding on a popular holiday weekend or getting married in a destination. So one of the reasons you may want to skip on these in the wedding planning is if your planning on getting married close to home. Save the dates are fine to send out in a blast e-mail which will help you save money.
The actual invitations
These are the most important aspect of the wedding stationary because they give your guests the date, time and place of your nuptials. There are many different ways to accent and design your invitations, so be creative when looking for invitations. Included in the invitation suite are: invite itself, response cards, directions and sometimes the menu for the reception. Wedding invitations can be on the expensive side, so if you're looking to save money consider making DIY invitations.
Programs
Programs let your guests know what's going on during the entire ceremony, and will give them a relatively good idea on how long it's going to last. It also outlines the bridal party, songs being played, meaning of any religious customs, etc. Keep in mind you can put anything you want into your programs. You can even go as far as to design them completely on your own. Doing them yourself is a great way to cut back in the wedding budget and wedding planning.
Place cards
This part of the wedding stationary marks the guests' seats. If you already have escort cards directing guests to tables then place cards aren't absolutely necessary. The great thing about place cards is if you want your friends to mingle this can get them to chat. If you're wedding planning calls for a small wedding of only 25 people, you may want to skip this wedding stationary all together.
Menu cards
Menu cards are a great wedding stationary whether you're having a buffet style reception or a full five course sit down dinner. It gives your guests the opportunity to know what they are eating or what choices they have for their meal, before their plates come out. Of course if you're trying to make cuts in the wedding budget you don't always have to have menu cards.
Thank you cards
These are a must have for the wedding stationary. You must send a personal thank you card to everyone you received a gift from or attended your wedding. It doesn't matter if they were engagement gifts, shower gifts or wedding gifts. A great tip to keep this under wraps during the wedding planning, is to write out thank yous as soon as you receive a gift. This will make it a lot easier than sitting down at the end of things and writing them all out at once.